Operators are the foundation of any programming language. Thus the functionality of C/C++ programming language is incomplete without the use of operators. We can define operators as symbols that help us to perform specific mathematical and logical computations on operands. In other words, we can say that an operator operates the operands.
For example, consider the below statement:
c = a + b;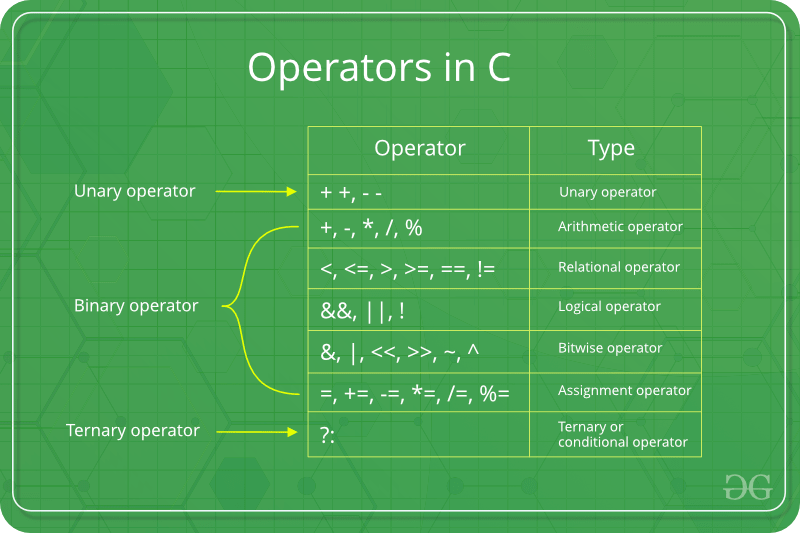 Here, '+' is the operator known as addition operator and 'a' and 'b' are operands. The addition operator tells the compiler to add both of the operands 'a' and 'b'.
C/C++ has many built-in operator types and they are classified as follows:
Operator precedence chart
The below table describes the precedence order and associativity of operators in C / C++ . Precedence of operator decreases from top to bottom.
| OPERATOR | DESCRIPTION | ASSOCIATIVITY |
| --- | --- | --- |
| () | Parentheses (function call) | left-to-right |
| [] | Brackets (array subscript) | |
| . | Member selection via object name | |
| -> | Member selection via pointer | |
| ++/– | Postfix increment/decrement | |
| ++/– | Prefix increment/decrement | right-to-left |
| +/- | Unary plus/minus | |
| !~ | Logical negation/bitwise complement | |
| (type) | Cast (convert value to temporary value of type) | |
| * | Dereference | |
| & | Address (of operand) | |
| sizeof | Determine size in bytes on this implementation | |
| *,/,% | Multiplication/division/modulus | left-to-right |
| +/- | Addition/subtraction | left-to-right |
| << , >> | Bitwise shift left, Bitwise shift right | left-to-right |
| < , <= | Relational less than/less than or equal to | left-to-right |
| > , >= | Relational greater than/greater than or equal to | left-to-right |
| == , != | Relational is equal to/is not equal to | left-to-right |
| & | Bitwise AND | left-to-right |
| ^ | Bitwise exclusive OR | left-to-right |
| | | Bitwise inclusive OR | left-to-right |
| && | Logical AND | left-to-right |
| || | Logical OR | left-to-right |
| ?: | Ternary conditional | right-to-left |
| = | Assignment | right-to-left |
| += , -= | Addition/subtraction assignment | |
| *= , /= | Multiplication/division assignment | |
| %= , &= | Modulus/bitwise AND assignment | |
| ^= , |= | Bitwise exclusive/inclusive OR assignment | |
| <>= | Bitwise shift left/right assignment | |
| , | expression separator | left-to-right |