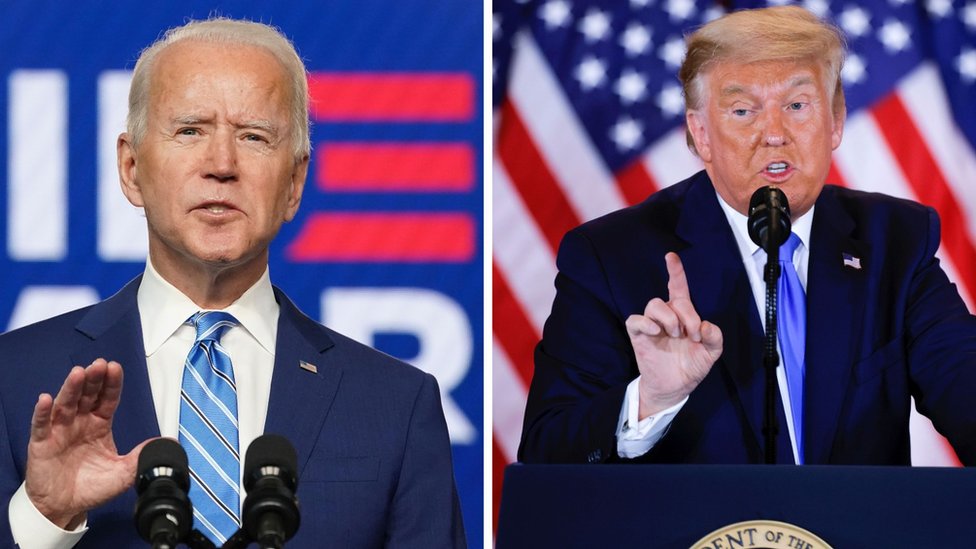 The information I show in this post only represent for my idea. A Vietnamese engineer in Europe.
Before we discuss further, let's update some information about the Election in American first:
Democratic candidate Joe Biden has pulled ahead of Donald Trump in Pennsylvania, a key state in the US presidential race, voting data shows.
If Mr Biden takes the state, he would secure his victory in the election. The state has 20 Electoral College votes.
According to the most recent data, Mr Biden is leading by more than 5,500 votes, with 98% counted.
Earlier, Mr Biden edged ahead of his Republican rival in Georgia, another key battleground state.
He is leading there with more than 1,000 votes, with 99% of the ballots counted.
No news organisation has yet projected it as a Biden win. Georgia is a traditionally Republican state and has not been won by a Democrat since 1992.
If Mr Biden wins Pennsylvania, the state where he was born, he would have 273 votes in the electoral college – enough to clinch the victory.
Pennsylvania has always been a major political battleground. The state voted Democrat in six consecutive races before it swung to Mr Trump in 2016.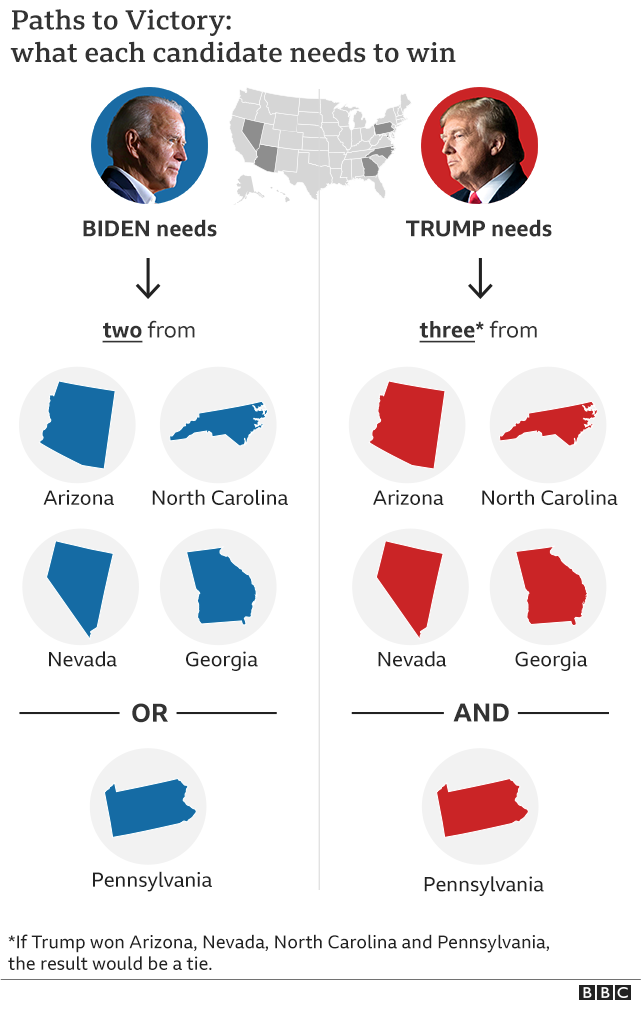 How about Asian-American, what they think and who they want to be the 46th president of US. And this is what I found from internet.
Indian-Americans voted for Biden, Vietnamese-Americans supported Trump.
According to post-voting polls, about 64% of Asian American voters support Biden, while 30% of them vote for Trump.
These figures are similar to 2016, but lower than the numbers Obama collected in 2012.
Asian Americans were the fastest growing minority of voters eligible to vote. Although this group's voter rate is still less than 5%, it may still be the deciding factor in fluctuating states.
According to the Asian-American Voter Survey, the Republican Party has gradually received support from this group in recent years, but nearly two-fifths of Asian-American voters have yet to register as a member of either two parties, meaning they may be "undecided voters".
Asian-American voters are far from other blocs. They come from many different backgrounds, including country of origin, culture, religion and generation. According to the survey above, Indian Americans tend to vote for Biden the most, while Vietnamese Americans tend to favor Trump.
Although President Trump has been widely criticized for calling Covid-19 "the Chinese virus", he has received enthusiastic support from a number of Chinese Americans.
Chenren Shao, a 35-year-old Chinese-American Republican voter in Maryland, said he was not offended by the term, as the virus started to emerge from China.
In addition, similar to the Cuban Americans who supported Trump, many Chinese immigrants who criticized Beijing have also praised Trump for claiming he stood up against communism.
Historically, both of these major parties have not had adequate access to Asian-American voters, resulting in a low turnout rate in this group. But in the near future, this electoral block will become large so that politicians must pay more attention.